Visit our

shop & gallery (12pm - 8pm daily, closed on Mondays)
Full steam ahead!
Illustrated Type artwork has been flowing into the gallery, and let me tell you, opening these packages is like Christmas morning, but WAY better. Lots of bubble wrap and lots of consistently amazing pieces. This design seal meme perfectly captures my reaction upon unwrapping Studio On Fire's posters.
Based in Minneapolis, MN, Studio On Fire provides both design services and letterpress printing with a distinctively tactile presence. Their unique workspace marries design, art and craft. They say it's like having cream and sugar in your coffee, and I couldn't agree more.
I'm ecstatic to share their contribution to Illustrated Type! An exquisite letter press poster featuring refined, geometric type paired with raw, organic textures. This piece encompasses some of Studio On Fire's favorite things—posters, fluorescents, thick paper (which feels SO good, you guys!), split fountain printing, and a wise quote (brought to us by Alphonse de Lamartine). On opening night, we're releasing 30 of these beauties!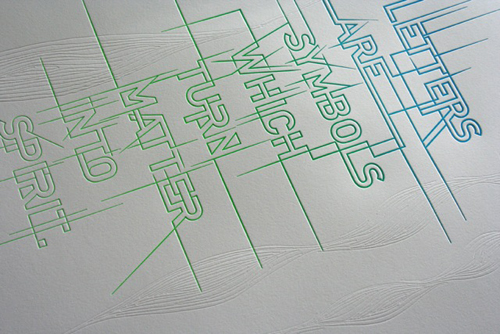 ---
Image from Studio On Fire.
---
---
---
---
---
---
---
---
---
---
---
---