Visit our

shop & gallery (12pm - 8pm daily, closed on Mondays)
Currently showing in our Forest Carousel show May Ann Licudine, aka Mall, is a visual artist and freelance illustrator from La Union, Philippines. Before completing her degree in Visual Communications and Painting, Mall started as a textile designer before becoming a painter and illustrator. Her time spent in that industry has given her a developed color sense, complex composition, and use of texture. We've asked her to tell us more about Babu and Abu, the lovable and mischievious characters we often see in her work. Mall shares insightful information about why her work is so engaging.


I've read that Abu was inspired by your beloved cat that passed away. What inspired Babu? Who is he and where is he going?

- Winsor McCay's Nemo in Slumberland served as the inspiration in the creation of Babu. Nemo's character influenced me to create a male mirror image of me. With Babu, I was not just painting or making my dreams but I am living them.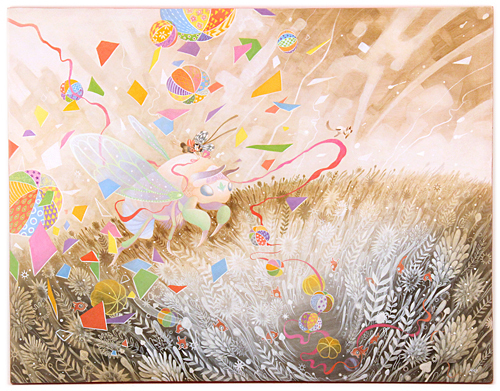 What do Babu and Abu mean to you?

- They represent my alter ego. Whenever I feel bored or sad or down or blank, I walk around my garden to imagine Babu & Abu doing their adventure plans… until I get fresh ideas, then I'll make doodles and sketches.

Do you think they are an extension of your desires, dreams, and yourself?

- Yes, they are. Through them, I am able to realize my dreams world and share it to other people.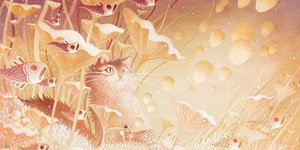 What is your art practice like? Is there a reason you like to work on wood?

- I'm into painting. I conceptualized my ideas and expressed them in canvas and paper. However, I felt that prints lack the depth to convey my ideas so I tried wood and clay sculpturing. The two gave life to my ideas and the tactual experiences are more rewarding.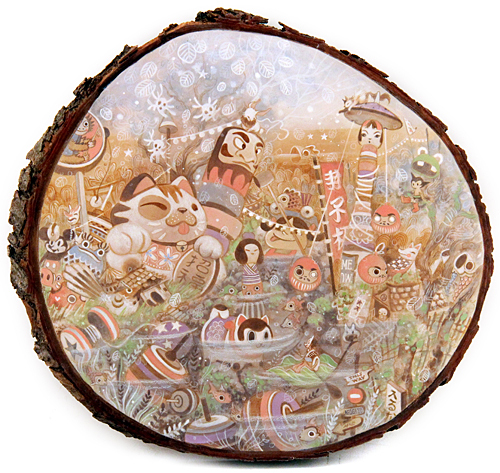 Who are major influences in your work? Do books play a large role?

- Hayao Miyazaki, Winsor McCay, Maurice Sendak, Helen Hyde, Mary Blair, Satoshi Kon, Edward Gorey, many… and of course, God, which is always one of my biggest inspirations. Books provided the basic foundation in my arts.

Your sculptural pieces are as layered and fascinating as your paintings. What led you to start including sculptural pieces?

- Thank you for appreciating them! My bestfriend Shandy RP from Indonesia knew that I love Studio Ghibli. He dared me to do a sculpture of Babu and Abu diorama. So I did it and it was good but very tedious. I worked with terra cotta clay during my college days and still have some of them which I used as background for some of my photos.




Where do you see your work going in the future?

- Like all artist, I wish to see my art works in books, personal collections and probably in galleries worldwide. Personally, I want my arts to be part of a person happy memories and dreams. Like a "comfort art".



See more from the show here
Check out more of Mall's work on her website
---