Visit our

shop & gallery (12pm - 8pm daily, closed on Mondays)
Mulan premiered on June 5th, 1998. Lauded by audiences and critics alike, the film was a huge success, earning nominations for two Golden Globes and an Academy Award. Decades later, it remains one of the most beloved Disney classics of all time. This past autumn, Gallery Nucleus proudly celebrated the film with a tribute exhibition for Mulan's 20th anniversary.
The enthusiastic response to this exhibition is a testament to its beautiful storytelling, iconic characters, and empowering message that is sure to inspire generations to come. We spoke with brothers Tony Bancroft (co-director of Mulan), and Tom Bancroft (supervising animator on Mushu) about their thoughts on the exhibition and the film all these years later.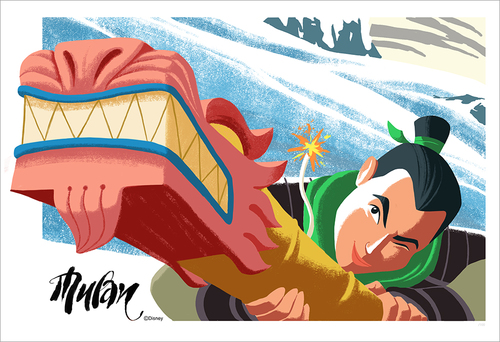 Tony Bancroft Tom Bancroft

What would you say was your biggest challenge in working on Mulan?
Tony Bancroft: Everything! I was a first time director on Mulan. When I was asked to co-direct the movie with Barry Cook, I was 27 years old. I came out of animation at Disney but there were many departments that I had never worked with yet. I didn't know a lot but I was passionate about making a difference. The thing that made it work for me was the awesome crew of hugely talented artists of the Disney Florida Animation Studio. They were the best people I have ever worked with.


Tom Bancroft: Everything. There were so many firsts for our Disney Florida Studio, for me personally, and even for our family on that film that my head was reeling constantly. My twin brother was made my boss, I was a first time supervising animator and designing a Disney character for the first time, and our studio had its first feature film we were making all by ourselves. Every department had new supervisors taking on greater tasks than they ever had before. To say we were excited is an understatement, and I think its one of the "mystery" elements that still makes the film special.
What did you love about working on the film?
Tom: The crew. I loved collaborating with all the artists- with most of us growing up together (artistically). I loved working with my head of clean up to fine tune Mushu's design, and every scene of Mushu that my team animated was a surprise. Also, teaming up with peers like Mark Henn, Barry Temple, and Aaron Blaise on scenes where Mushu interacts with Mulan, Kri-Kee, or the great ancestor were real highlights.

Tony: Two things: The crew and the story. The crew were so passionate about making their work the very best they could- it was inspiring for me. There was such hard work and care put into each and every frame by our team. And the story of Mulan was something that I felt was engaging and important. I think we all felt that it could be a game changer not only for Disney, but also for the world.
We had such an enthusiastic response to the 20th Anniversary Tribute Show. Why do you think Mulan is still so beloved after all this time?
Tony: I think it endures all these years because its a story with a lot of impact on peoples lives. It teaches the lesson to be true to who you are, no matter what others say you should be or do. It also questions a woman's role in a society that was known to keep them down. Our society and the generations that have grown up with Mulan, believe in and are changing the world because of these valuable lessons. I think it had to be said, back then and now. Plus, it's a lot of fun.


Tom: For one, this was one of the first big American animation releases that focused on Asian culture. Come to think of it, not a lot have been done since either. I will never forget, about 6 months before Mulan was released, a Chinese-American dad came up to me and told me how he couldn't wait to share this film with his young daughter. He boldly told me he was ashamed at how his country had treated women for so many centuries. He said this was the only story he knew of from his childhood that celebrated a brave Chinese woman. He wanted to share his love of Disney and his pride in his culture with his daughter in a positive way. I still think of that dad and I'm proud to say we we gave him the film he wanted so badly.
Going off of that, in many ways, Mulan subverted the typical "Disney Princess" model of her time. What are your thoughts on the ways in which the film challenged traditional gender roles?
Tony: It was all about gender roles! In some regards we played with this in a comical way ("A Girl Worth Fighting For") and in other ways in heartfelt ways (Mulan's "Reflection" song) but either way, we dug deep into the topic of what traditionally was a women's and what was a man's role especially in China during that time period. But the impact is felt by the audience who, no matter what time or place, can relate with Mulan and her feelings of not being able to be who she is inside. She's one of the only Disney "princesses" that doesn't change through the journey of the story. Her change comes by changing who all of China views her as a woman.
Tom, you've worked on so many Disney classics over the years (Aladdin, The Lion King, Pocahontas, Tarzan... the list goes on!). How did your experience on Mulan differ from the other films you've worked on?
Tom: So many Disney films are just plain fun. Entertaining. Only a few have touched people in a deeper way. I know I was working on all the sections of the film that were meant to be funny (working on Mushu), but as a young father at the time, I walked away from the experience surprised by the heart of the film. It hit me sometime after we released the film that it wasn't the humor that I was most proud of, but the fact that we had reintroduced the word "honor" back into society. Especially American culture. Honoring your family and your important place in that family is something I want my children to always hold on to.
What excites you about the future of animation, and the types of stories being told?
Tony: What excites me about the future of animation is the never-ending exploration into the medium and the kinds of stories we can tell and involve audiences in. I'm equally excited to see more and more women joining the talent pool of creators they will be the ones to bring new stories and experiences to audiences like we have never seen before.
And finally, any thoughts on the upcoming live-action adaptation?
Tom: Ha! Seriously, I'm not sure I have a strong opinion. I like anything that gets people talking about our animated version- even if it is just to compare them once this film comes out. As with all the of "remakes", I just want them to change things a bit. In my opinion, the least successful remakes stick too closely to the original.


Tony: I'm glad they are doing it! While I haven't been a involved with the production at all, I think I'm just as interested to see what they do as any Mulan fan. I haven't always been a fan of the remakes that Disney has done though. Many have been slavishly following the animated originals too much. I think they are more successful when they have a unique take on the story and characters. I am hopeful Mulan will be in this latter category.
Tony and Tom Bancroft host a show called The Bancroft Brothers Animation Podcast. Find Tony on Twitter and Instagram, and Tom on Twitter and Instagram.

Written by Lila Selle.
---