Travelers by Aron Wiesenfeld Virtual Panel / Q&A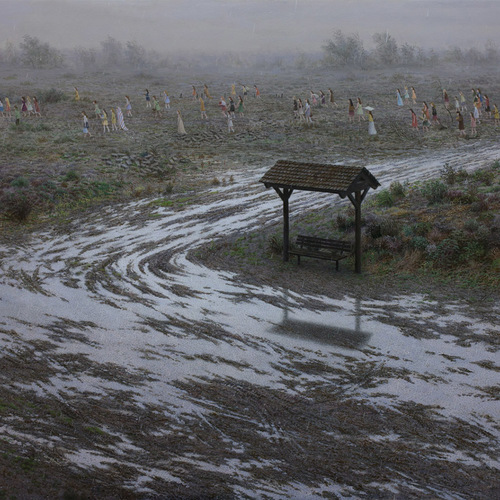 February 21, 2021
Feb 21,
2:00PM - 4:00PM
Celebrating the release of Aron Wiesenfeld's new book Travelers, Nucleus will be hosting a live Q&A panel with the artist as well as providing special signed bookplates.

Pre-order a copy of
Travelers
from our website
and get a
signed bookplate
from Aron Wiesenfeld as well as
exclusive access to an online (Zoom) Q&A panel
with the artist!
ONLINE Q&A INFORMATION
Information may be subject to change. Please check this page closer to the event for updated information.
On Feb 21 at 2:00PM PST, Nucleus will be hosting a live 2 hour Q&A with artist Aron Wiesenfeld via Zoom.
Customers that purchase a copy of Travelers from our website, from now till 11:59 PM PST Feb 20, will be emailed access to the Zoom Session. Zoom info will be sent no later than 11:00AM PST Feb 21 - the day of the panel.
Books including the signed bookplates are estimated to ship end of February.

ABOUT "TRAVELERS"
Clover Press
is celebrating the artist's most recent works in
Travelers
, a
new book featuring over 100 pages of the artist's paintings completed since 2014. The book is beautifully printed with a lay-flat spine for easy browsing and curated and designed by the artist himself.
ABOUT ARON WIESENFELD
Aron Wiesenfeld
is an American artist known for painting emotionally charged landscapes depicting young people in psychologically vulnerable states. Wiesenfeld primarily works in oil paint and charcoal drawing. His technique draws upon the traditions of master painters from history, though his subject matter is decidedly modern. Sometimes described as "liminal", his young subjects are often placed in the ignored in-between places on the outskirts of cities. These settings are echoed by an unconscious "in-betweenness" in the young protagonists, who are adrift, indecisive, in peril, or in search of something.
Born in 1972, Wiesenfeld grew up in Santa Cruz, California and now lives in San Diego, California. He studied painting at Cooper Union School of Art in New York. After a brief career illustrating comic books, he continued his studies at Art Center in Pasadena, CA. His paintings have been in galleries and museums around the world, including New York, L.A., San Francisco, London, Olso, Amsterdam, and Rome. His work has also been seen in publications such as
Hi-Fructose, Juxtapoz
,
American Art Collector
,
Drawing Magazine
,
Wall Street International
, and
The Huffington Post
. He is currently preparing for his 11th solo exhibition.

aronwiesenfeld.com