MerMay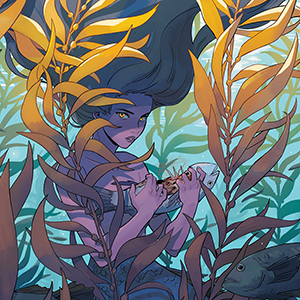 MerMay
May 16, 2020 - May 31, 2020
Opening Reception / May 16, 6:00PM - 9:00PM
4 days left

view pieces
add to calendar (.ics)
share this event
**NOTE: Due to the ongoing situation with COVID - 19, there will not be an opening reception for this show. Instead the show will open online. All pieces will be available beginning May 16th at midnight, or 12 AM on the 17th.**
Gallery Nucleus and MerMay creator Tom Bancroft are excited to announce the first ever official MerMay art show!
Featuring more artists than you can shake your tailfins at, this show is sure to be a bubbly delight for all ages.
Opening :
May 16th
Introducing the first Mermaid of the Year enamel MerMay pin, designed by artist Pernille Orum!
Pre-orders of the very first official MerMay art book will be availble for a limited time, ending June 1st
Exclusive art prints as well as other exclusive items will be released!
Featured artists:
Tom Bancroft
Neysa Bove
Alina Chau
Jenna Gray

Vanessa Gillings
Marie-Alice Harel

Amber Aki Huang
Liana Hee

Sunmee Joh
Bryce Kho
Celine Kim

Eileen Kai Hing Kwan
Kristin Kwan
Tiffany Le
Mindy Lee
Ashley Lovett
Sibylline Meynet
Junko Mizuno
Pochan
Manelle Oliphant
Pernille Orum
PoCh4n
Karoline Pietrowski
Whitney Pollet
Brigitte

Roka
Meike Schneider
Annie Stegg
Genevieve Tsai
Crystal-Jade Vaughan

Erin Vest
Michelle Wong
MerMay 2020 is sponsored by Wacom!

Event Exclusives
---
---
---
---
---
---