The Boy, the Mole, the Fox and the Horse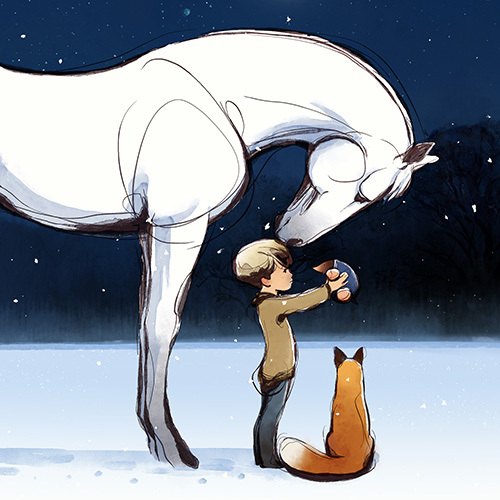 February 15, 2023
Feb 15,
6:00PM - 8:00PM
Dive deeper into the animated short film
The Boy, the Mole, the Fox and the Horse
and join us for a one night screening / panel with some of the creatives behind this Oscar nominated film.
**STORE/GALLERY will be closed to the public during the screening/panel on Feb 15th from 6P - 8P)**EVENT DETAILS
Select concept art will be on display from February 15 - 19, 2023 (closed Mondays)
Exhibition / Panel location: 210 East Main St. Alhambra CA 91801
PANEL / SIGNING DETAILS
Panelists
Cara Speller - Producer
Mike McCain - Art Director
Jenny Yu - Background Artist
Tracey Miller-Zarneke - Moderator
In-Person Only (Wednesday Feb 15, 6pm PST)
6:00pm - 6:30pm PST Screening
6:30pm - 7:00pm Presentation
7:00pm - 7:30pm Q&A
7:30pm - 8:00pm Signing
All ages welcome
E-Tickets are $5 each and available below
E-Ticket can be redeemed for $5 in store credit on Feb 15th only
E-Ticket includes a FREE film poster and a cupcake while supplies last
E-Tickets limited to 100 people (no refunds)
E-Tickets do not need to be printed out
Seats are first come first serve. Please arrive 30 min prior to the event
Limited copies of The Boy the Mole the Fox and the Horse books will be available in our shop
Limit 2 signing items per person
Outside items allowed
ABOUT THE BOOK
From British illustrator, artist, and author Charlie Mackesy comes a journey for all ages that explores life's universal lessons, featuring 100 color and black-and-white drawings.
Charlie Mackesy offers inspiration and hope in uncertain times in this beautiful book, following the tale of a curious boy, a greedy mole, a wary fox and a wise horse who find themselves together in sometimes difficult terrain, sharing their greatest fears and biggest discoveries about vulnerability, kindness, hope, friendship and love. The shared adventures and important conversations between the four friends are full of life lessons that have connected with readers of all ages.
ABOUT THE FILM
The Boy, the Mole, the Fox, and the Horse, based on the internationally best-selling book of the same name by celebrated author Charlie Mackesy, features Mackesy's distinctive illustrations brought to life in full color with beautiful hand-drawn animation. A story of kindness, friendship, courage and hope for viewers of all ages, The Boy, the Mole, the Fox, and the Horse is a poignant and heartfelt journey that follows the unlikely friendship of a boy, a mole, a fox and a horse traveling together in the boy's search for home. The film stars Tom Hollander as The Mole, Idris Elba as The Fox, Gabriel Byrne as The Horse, and newcomer Jude Coward Nicoll as The Boy.
Matthew Freud presents a Charlie Mackesy film, produced by Emmy Award winner and Academy Award nominee Cara Speller ("Love, Death & Robots," "Pear Cider and Cigarettes," "Rocket & Groot") of NoneMore Productions and Emmy Award winner J.J. Abrams and Hannah Minghella of Bad Robot Productions. Directed by Peter Baynton ("The Tiger Who Came To Tea") and Charlie Mackesy, the film is adapted from the original book in collaboration with Jon Croker ("Paddington 2"). The film is executive produced by Jony Ive and Academy Award nominee Woody Harrelson ("Three Billboards Outside Ebbing, Missouri"). Original score by composer Isobel Waller-Bridge, performed by the BBC Concert Orchestra and conducted by Geoff Alexander.
The film is presented in partnership with the BBC and is currently available on Apple TV+.
No event pieces are currently available to display.
Event Exclusives