VISIT US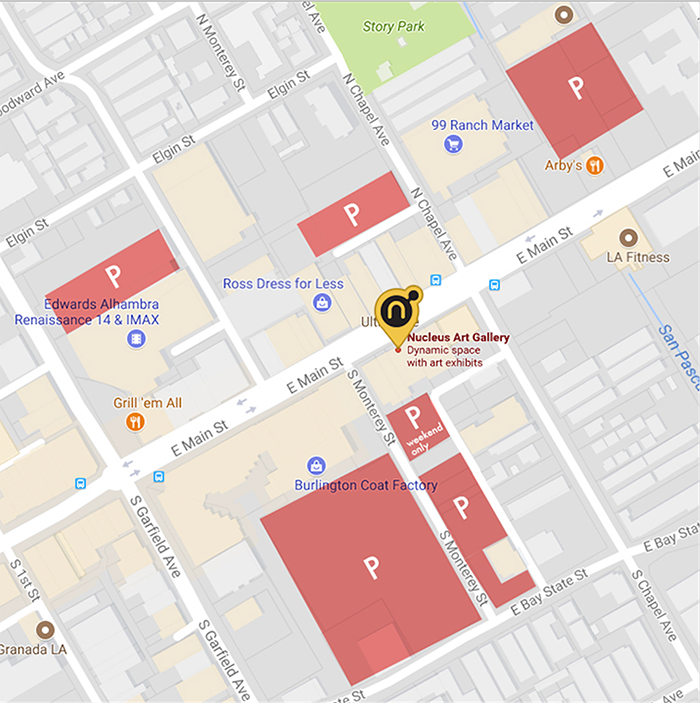 Location
210 East Main Street
Alhambra, CA 91801
Driving Directions

Store Hours
Tuesday - Sunday : 12:00 PM - 8:00 PM
Monday : Closed
Open late for receptions and special events

Contact Info
Phone 626-458-7482
Fax 626-458-7486
Email
ABOUT NUCLEUS
Since October of 2004, Nucleus has strived to be a welcoming gathering place for the art loving community by offering quality art, art-related goods, and rarities. Focusing primarily on gallery exhibits, we have also had benefit auctions, product signings, music events, and artist lectures.
Having exhibited both local artists and artists from abroad, and catering to an international customer base, we offer an extensive collection of original contemporary, illustrated, graphic, commercial, and narrative art - all of which are carefully catalogued on our website.
Always open to the public, we welcome art collectors and the general public alike to visit us.
Artwork Inquiries
To inquire about work from previous shows, work that has been sold, or upcoming or available pieces by a particular artist, email us at .
Corporate Opportunities
Do you believe in our brand and what we stand for? Do you love our artists and exhibitions? Whether it's franchising or investment opportunities, we'd like to hear from you. We are currently seeking qualified business-minded people with a strong appreciation for the illustrated arts that are interested in furthering the development of Nucleus.
ABOUT ALHAMBRA, CALIFORNIA
Alhambra is a charming little city with a cute downtown area, located in the San Gabriel valley just south of Pasadena, and 10 minutes east of downtown Los Angeles. There are a variety of great restaurants and entertainment venues within walking distance.
Check out some of them HERE