The Animal Kingdom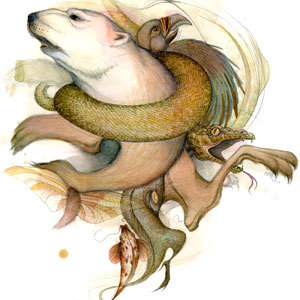 The Animal Kingdom
February 16, 2013 - March 3, 2013
Opening Reception / Feb 16, 7:00PM - 10:00PM


view pieces
view photos
share this event
And when, on the still cold nights, he pointed his nose at a star and howled long and wolflike, it was his ancestors, dead and dust, pointing nose at star and howling down through the centuries and through him.
- Jack London,
The Call of the Wild

_________________________________________________
Nucleus presents a collection of visual work proclaiming admiration for the animal world. A global roster of talent seeks to capture the diversity of beasts that tromp the earth, soar its skies, and swim its seas. We live as the minority among majestic and almost magical creatures each having a place in the cycle of nature. They inspire man's imagination and come to us in our dreams. It would be a lonely world without such an amazing spectrum of life.
Over 70 works of art will be on display in a variety of mediums including oil, acrylic, watercolor, ink, graphite, paper cut, stoneware, and more. Select art prints from contributing artists will be released.
Join Us for the Opening Reception
($5 Admission)
Bring your Valentine as part of your romantic night out.
Open to the public. All ages welcome.

Reception Highlights Include:
Pet LIVE zebra, pygmy goats, alpacas, sicilian donkey, baby turtles, parrot, albino snake and more!
Admission includes entry to win original artwork, LA Zoo tickets, and art prints. Raffle drawing will be at 9:45pm. You do not need to be present to win. Winning numbers will be posted on Facebook
Free rose for couples (while supplies last)
Complimentary champagne & wine
Be among the first to see the featured work. This exhibit will be online to the public Sunday, February 17th, but join the online preview using the form to the right to view and purchase the work prior to the opening reception.

Exhibiting Artists:
Joy Ang
Patrick Awa
Brigette Barrager

Ryan Berkley
Lucrezia Bieler
Laura Bifano
Michael Brown
Chris Buzelli

Marjolein Caljouw
Bill Carman

Ako Castuera
Alina Chau
Megan Hughes
Bruce Jensen
Sean Kenney
Edward Kinsella III
Mindy Lee
So Youn Lee
May Ann Licudine
(MALL)
Rodrigo Luff

Ashley Mackenzie
Adam Matano
Lucy Mazel
Victo Ngai
Andrea Offermann

Mark James Porter
Corinne Reid

Edel Rodriguez
J. Shea

Dadu Shin
Sachin Teng

Juan Travieso
Nicomi Nix Turner

Angie Wang
Teagan White

Jeremy Wilson
Mike Yamada
Victoria Ying
Ping Zhu
Tian Mang Zi
Jaime Zollars
Treacherous Water
by Victo Ngai
Elephant
by Adam Matano
Mud
by Chris Buzelli
Rabbit
by Sean Kenney
Impugning the Frailty of Unspoken Words
by Nicomi Nix Turner
Process of
Beneath a Black Sun
by Jeremy Wilson
Top images by Andrea Offermann and Lucrezia Bieler
Event Exclusives
---
---
---
---
---
---